Gary Lang to Host a USO Barbecue for the Troops Community Fundraising Event
Saturday, July 14th from 11:00 AM to 1:00 PM

For the sixth consecutive year, The Chicago Automobile Trade Association (CATA) has partnered with the USO of Illinois to host the annual USO BBQ for the Troops community fundraiser. The proceeds raised from this one-day event have supported the USO of Illinois program and its services for local service members and their families. In total, CATA dealers have helped raise $560,000 over the last five years.

Gary Lang Auto Group in McHenry, IL will be firing up the grill in support once again on Saturday, July 14th from 11:00 AM to 1:00 PM with food and fun for all ages. All proceeds raised during Gary Lang's USO BBQ for the Troops will help fund comfort areas for traveling military members in the O'Hare International Airport, hot meals for sailors at USO Great Lakes, educational programs for military children, financial support for military families over the holidays, and so much more. At Gary Lang Auto Group, we are proud to continue our involvement with this incredible fundraiser.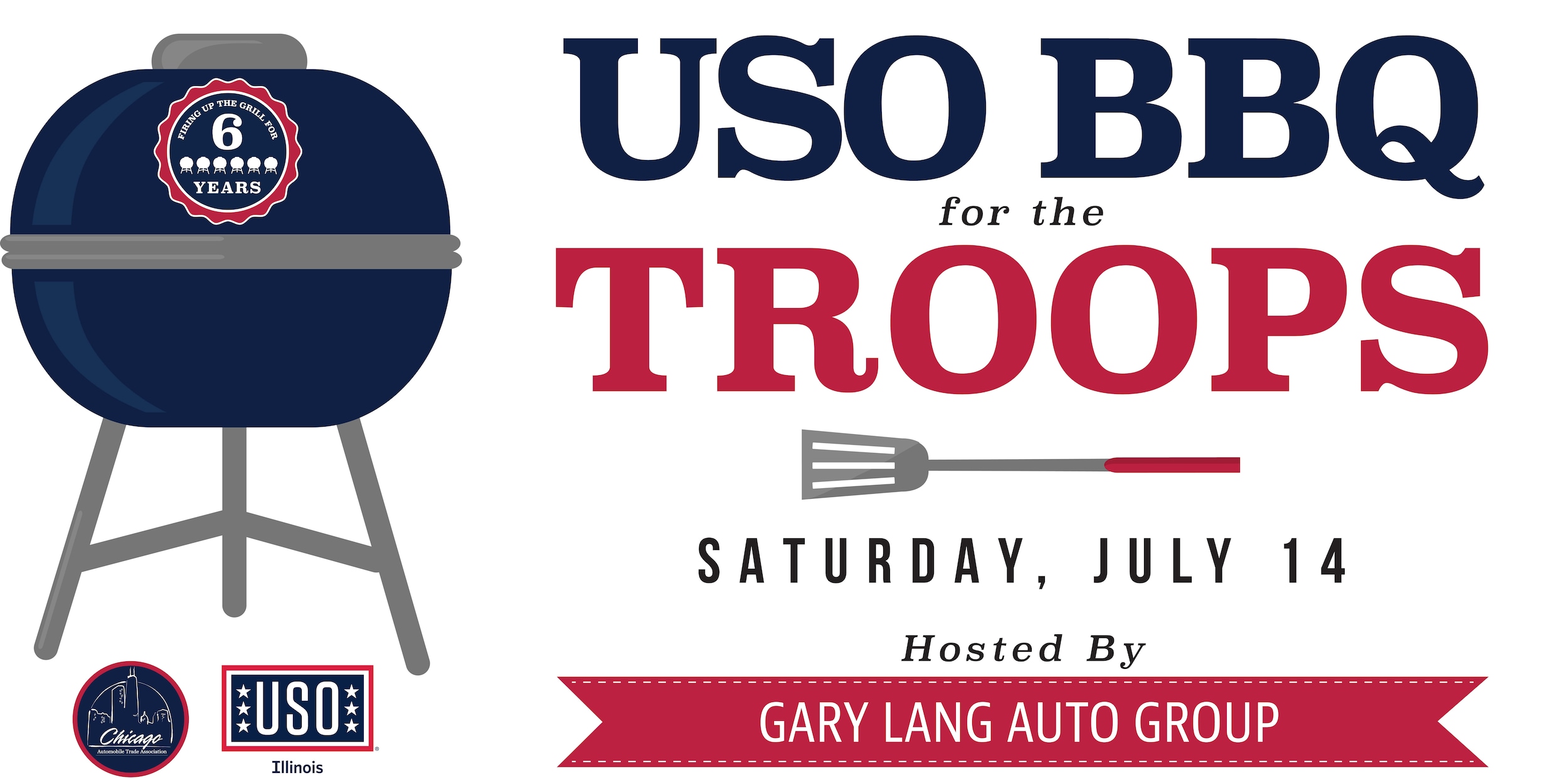 "The USO of Illinois is proud to partner with the Chicago Automobile Trade Association and local new-car dealers for the sixth year in a row for the USO BBQ for the Troops initiative," said USO of Illinois President and CEO Alison Ruble. "The USO BBQ for the Troops program has raised more than $560,000 to support local troops and their families. The support of service members' hometown communities and local new-car dealerships has allowed the USO of Illinois to support 324,000 service members and their families annually through hundreds of programs and services. Neighbors supporting neighbors through initiatives like Barbecue for the Troops makes communities even stronger and joining your local dealership for their BBQ in July is a great way to get involved! From the USO of Illinois and all those who serve our nation, we thank you for your generous support."
About the USO of Illinois
The USO strengthens America's military service members by keeping them connected to family, home and country, throughout their service to the nation. Supporting nearly 325,000 troops and their families every year, the USO of Illinois is a civilian 501(c)(3) non-profit that is supported solely by the generosity of the American people. For more information about the USO of Illinois, visit: www.usoofillinois.org.