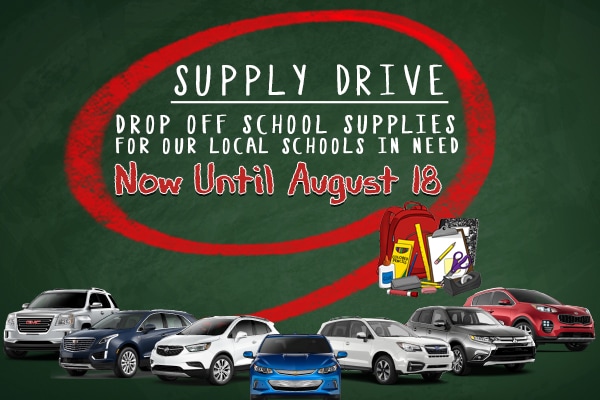 August 1 – 18
Gary Lang Auto Group, located off Rte 31 in McHenry, IL, is hosting a School Supply Drive to benefit local McHenry schools in need. Needed supplies include spiral notebooks, pencils, pencil erasers, pencil sharpeners, pencil boxes, glue sticks, safety scissors, colored pencils, washable markers, crayons, loose leaf paper, folders, binders, books, backpacks, and much more.
Gary Lang Auto Group's school supplies drop-off locations are in our new Buick, GMC, Cadillac, Chevrolet, Mitsubishi, Kia, and Subaru showrooms located at 1107 South Illinois 31 in McHenry, Illinois.

Our team believes that no child should have to go to school without the supplies needed to benefit their education. With your help, Gary Lang Auto Group will give our local students a strong start to the school year. Our School Supplies Drive starts Tuesday, August 1st and ends Friday, August 18th. Thank you in advance for your support and contributions!