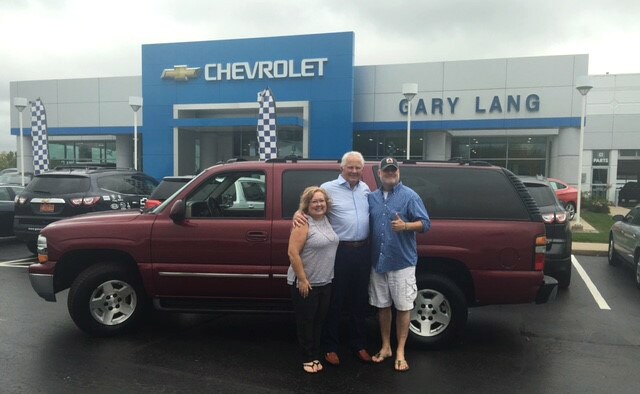 Gary Lang, Michael Young, and Mayoral candidate Geri Condon stand next to the Chevy Suburban donated by the Gary Lang Auto Group in McHenry to Not One More - Illinois

NOT ONE MORE. It's not just the slogan, mantra, and name of an organization, it's a battle cry that is being picked up by local businesses, community leaders, and neighbors. Not One More - Illinois is the latest chapter of the national charitable organization that helps those dealing with addiction realize and respond to their issues and needs. Recently, the Gary Lang Auto Group joined the cause, donating a vehicle to give Not One More responders the ability to pick up local McHenry County community members who have recognized a problem with addiction in their lives or that of a loved one, and bring them safely to caregivers and programs that can help.

"While most people recognize the reality of addictions, most don't experience the pain and suffering of the disease personally," said Michael Young, president of Not One More - Illinois. "Not only is the devastation apparent for the addict, but also for the family that struggles alongside them."

Young brings his first-hand life experiences and his professional knowledge to the program, guiding it with very specific goals in mind. Not One More wants to give members of the community struggling with addiction the support they need. The group also looks to educate the community, inspire young people in McHenry County to stay drug free, and fill the gaps between federal programs and local needs

"This is important. These are our kids. Our families. Our friends and neighbors," said Gary Lang, owner of the Gary Lang Auto Group on Route 31 in McHenry. "As a community member and business for the last 33 years, we have recognized the growing need to stop addiction in its tracks. Not One More has a plan of action in place that meets our community right where it needs it most. We support them not only financially, but with our time and our effort to get the word out."

Gary was first introduced to Mike Young and Not One More - Illinois by Geri Condon, a McHenry Alderman and Mayoral Candidate. As a licensed Clinical Professional Counselor with Capture Your Path Counseling, she assists Mike and the organization with mental health counseling. "This is a cause near and dear to me and am so happy to have played a small part in connecting Mike and Gary."

Not One More began in California in 2012. With its success, it quickly grew into a national charitable organization offering Parent education, 24-hour web based resources, financial aid, scholarships, information to bridge the gap between rehab costs and insurance, intervention services, and age appropriate education in schools. Not One More - Illinois also provides transportation and logistical assistance to addicts ready to commit to treatment.

"You help where you can," added Lang. "Giving these caregivers a vehicle to provide safe, trusted rides to people in need... well that's something we can help our community with, gladly."

The Gary Lang Auto Group is located at 1107 State Route 31 in McHenry. For more information about Not One More - Illinois, its support group and/or services, please visit their Facebook page or call 815-585-6797.