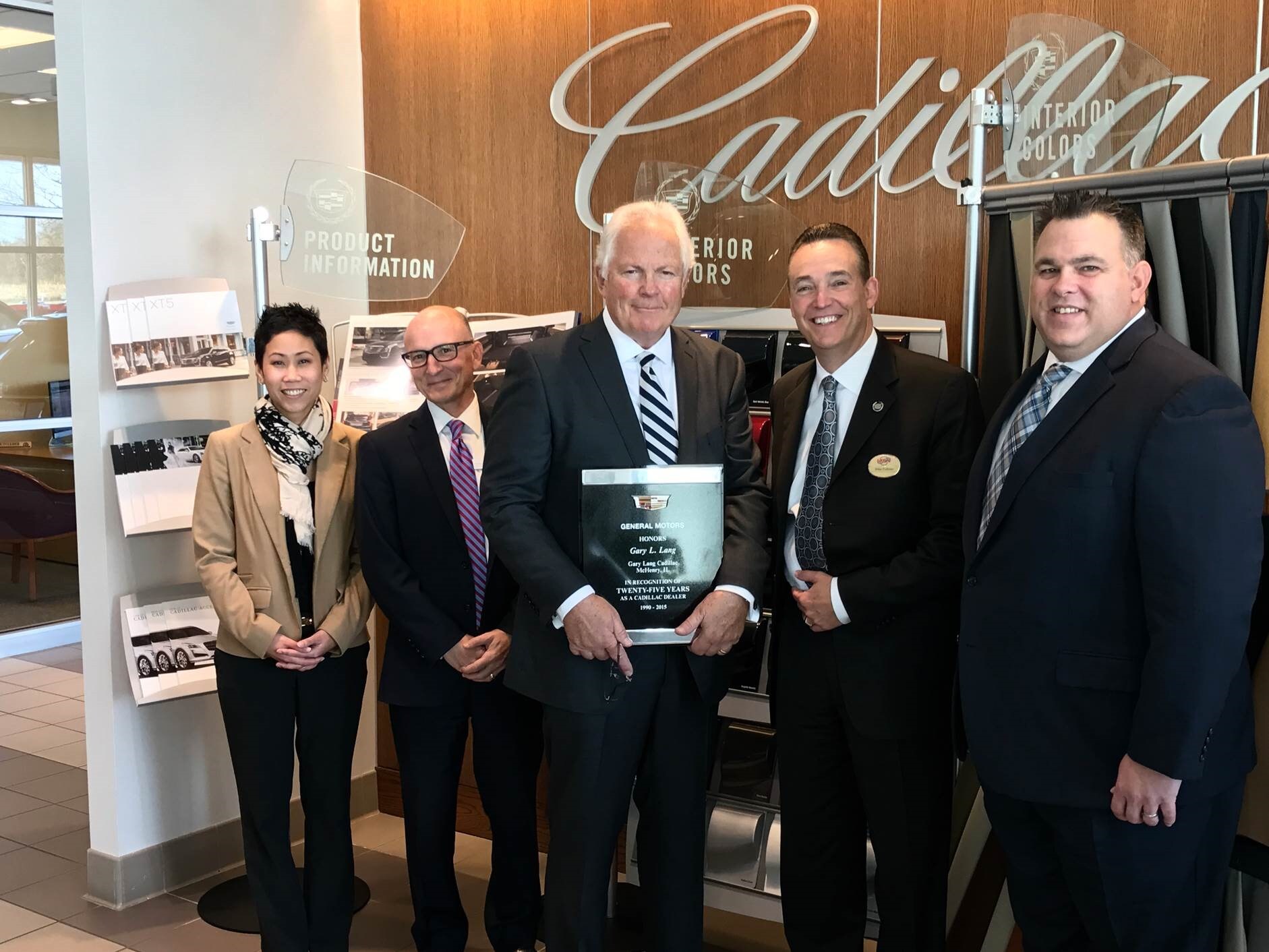 General Motors recently recognized Gary Lang with a plaque commemorating 25 years as a Cadillac dealer

Quality. Consistency. Pride in our products, our people and our service. These are just a few of the qualities that Cadillac brand and the Gary Lang Auto Group have shared over the past 25 years. Recently, GM honored McHenry County's largest dealership group and it's owner with an award commemorating those 25 years as a franchise owner and dealer.

"This 25 year anniversary is very exciting and rewarding for everyone here at our dealership," said Lang after receiving the plaque from corporate executives, members of his staff, friends, family and well wishers from the community. "We are honored to offer McHenry County all of the innovation, style and prestige that comes with the Cadillac brand." Lang went on to add, "We look forward to many more years serving our community with these amazing vehicles backed by the Gary Lang name and quality of service. It's about raising our customers expectations and delivering every time."

Gary Lang started in the automotive industry as a salesperson at a Chevy dealership in the 1970s. He opened his first small dealership in McHenry in 1983 featuring GM Products. Then in 1990 he expanded his dealership group to offer his customers the Cadillac franchise. Today, the Gary Lang Auto Group offers a full lineup of GM products including Cadillac, Chevrolet, Buick and GMC as well as Subaru, KIA and Mitsubishi. They specialize in personal and family vehicles as well as small commercial trucks.

The dealership group, located right on Route 31 in McHenry has been a respected and trusted dealership in the area, but also a present, participating and generous community member. Gary Lang's dealerships employ dozens of local and area family members as salespeople, managers, mechanics, car porters, office staff and more. But more than that, you see cars displayed at local events sponsored by the group. You find team plaques in the dealership bearing pictures of local area baseball, football, basketball and soccer programs. Even local charities and food pantries have benefitted from donations and drives put on by the group and its owner.

"This is our home," said Lang with pride, "Since our beginning as a small dealer, to now, 25 years later with 7 franchises and this award from Cadillac. We've grown. So has our community. It's great to look back. It's even better to have a sense of what the future holds. I'm very grateful to this area for supporting us and giving us their trust for the last 33 years."

The Gary Lang Auto Group is located at 1107 State Route 31 in McHenry. For more information about the award, the dealership or its hours, products and services, please call (815) 385-3100 during normal business hours.